Need help, advice or support?
Find out who to contact if you need help with substance use, support or information, or if you want to report domestic or sexual abuse. (Last updated 06.09.2019)
Services in Nottingham City
Adult treatment for drugs and alcohol
Nottingham Recovery Network at The Wellbeing Hub
(Single Point of contact for adults 18+)
Walk in assessment back as of 21st feb 2022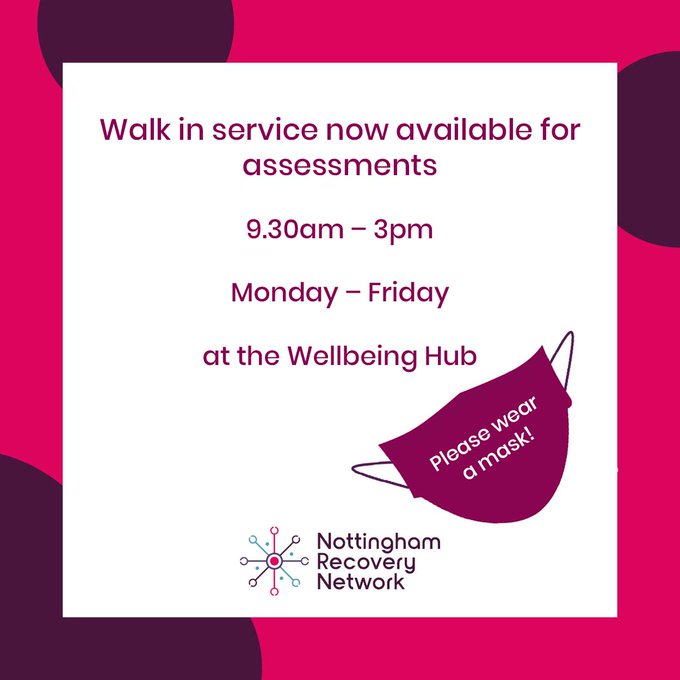 Who is the service for?
We are here to support anyone in Nottingham City who may be concerned about their own relationship with drugs and alcohol. We're here to support those people who know that
something has to change, but who aren't sure of how to make that change a reality.  We are also here to provide advice and guidance to friends, family members, GPs and other third parties who are
concerned about the wellbeing of somebody else.
How they work?
We provide a single support hub for people wanting help or advice about alcohol and drugs. We're available on-line, in person, or over the phone.
People can walk in, refer themselves or be referred by other services.
Our expert staff will then:
Complete a comprehensive assessment of their needs
Support them through appropriate treatment
Support them after any treatment(s) to maintain their recovery
Offer them opportunities to learn and develop.
Our aim is to guide people through a network of support and treatment opportunities that are right for them.
How to refer: 
There are three main ways that people can ask for help or learn more about our work. People can either refer themselves to the service or be referred by a third party such as a doctor or a support worker.
Online:
Visitors to our website can ask directly for support in confidence, and will also find links to a range of useful resources.
www.nottinghamrecoverynetwork.com -to-face at our drop in location:
By speaking to us on the phone:
Telephone: 0800 066 5362 or 0115 970 95901
Face-to-face at Nottingham Wellbeing hub, 73 Hounds Gate, Nottingham NG1 6BB
Monday, Tuesday, Thursday and Friday: 9.30am – 4.30pm
Wednesday: 9.30am – 6.00pm and Saturday: 9.30am – 1.00pm
Young People's Treatment for drugs and alcohol and family support
CGL – Jigsaw
ARE YOU…?
A YOUNG PERSON
– Who wants to speak to someone about what's going on in your life?
– Wants to make sure they know enough about drugs and alcohol
– In need of support for yourself because of a someone else's
substance use?
OR ARE YOU…?
A FAMILY MEMBER
– Who is worried about someone else's substance use?
– Who would benefit from support from other people in a similar situation?
WHO WE ARE
We are a specialist support service for young people affected by
drugs or alcohol. We offer provision focused on both preventing
substance misuse as well as providing structured treatment to
support those using more problematically.
Our team of qualified staff also provide information, advice and
consultancy for professionals, families and carers who are
concerned about a young person's substance use.
Our aim is to provide you with the knowledge, skills and
confidence to identify and appropriately respond to risk
associated to a young person's substance use.
Our services are free, friendly and confidential. We offer person centered
support that is non-judgmental and suited to meet the
individual needs of all service users.
We welcome all young people no matter what their background,
religion, disability, sexual orientation, culture or gender.
WHAT WE OFFER
We offer tailored services for young people, families/carers
and professionals, ranging from one-off to longer term
support. To ensure support for young people is coordinated
to meet their range of needs, we provide services in
partnership with health, education and youth justice
services.
– Assessment and care-planning for young people
– 1:1 support and interventions
– Support around related areas such as housing,
education/training, employment and finances
– Groupwork programmes
– Harm reduction advice and information
– 1:1 support for children impacted by parental substance
use. including support for parents and carers
– Community outreach
– Information, advocacy and support for families, carers
and professionals
– Telephone and digital support via social media
If this doesn't include what you are looking for, please
contact us and we will be happy to discuss how we can help
you.
MAKING A REFERRAL
We are more than happy to discuss any questions or concerns
you may have about someone you care for or are working with,
and their suitability for a referral to the service. You can self refer
or ask a professional to, they can also use our screening tool
which may help you decide whether a referral is the best option.
Please visit www.changegrowlive.org for more information.
We do need the young person's consent in order to accept a
referral so please do discuss this with them in advance and get
their agreement.
Referrals can be made by:
Phone: 0115 9484 314
Email:jigsaw@cgl.org.uk
Once we receive your referral, it will be allocated to a worker
who will make arrangements for an initial meeting with the
young person.
JIGSAW website 
https://www.changegrowlive.org/young-people/cgl-jigsaw-young-person-family-service
Sexual Health and Community Needle Exchange
The Health Shop  – Based in the Wellbeing Hub. 
WHO ARE WE?
The Health Shop is a free, confidential service based in Nottingham and open to all. We offer advice and support on a wide range of issues regarding sexual health and substance use.
HOW CAN WE HELP?
Testing for HIV, Syphilis, Chlamydia and Gonorrhea – for those with no symptoms
HIV and Syphilis Fast Test (criteria applies)
Free condoms and lubricants
Fully inclusive sexual health service for all genders and sexualities
Information relating to safer sex and sexually transmitted infections
C-Card scheme registration and distribution point – condom scheme for young people aged 13-24
Advice around cervical screening and breast self-examination for women
Advice around testicular self-examination for men
Pregnancy Testing
Emergency Hormonal Contraception for over 14s
Outreach needle and syringe exchange at specific venues across the city
Testing for Hepatitis B & C – for over 16s
Hepatitis C support and referrals
Hepatitis B vaccinations
Unfortunately we are unable to vaccinate you if it is for travel or occupational reasons. Other exclusions may apply. Please discuss with a member of the staff team to find out if we can help you.
Harm reduction and safer injecting/smoking advice – including foil
Outreach clinics at various venues across the City
Overdose Response and Naloxone Training
HOW THEY WORK
Just drop in.
Mon, Tue, Thur, Fri: 9.30am – 4.30pm
Wed: 9.30pm – 6.00pm
Saturday: 9.30 am – 12.00 pm
Appointments are required for some services, call us on 0115 844 1855 if you're unsure.
The Health Shop
Nottingham Wellbeing Hub
73 Hounds Gate
Nottingham NG1 6BB
Tel: 0115 970 9590 or 0800 066 5362
http://www.healthshopnottingham.co.uk/
NRN Harm Reduction Service
Based at 12 Broad Street (the old Health Shop building)
The service offers:
Full range of injecting equipment and related equipment (spoons, citric etc)
Pick and mix
Foil
Harm reduction and injecting advice
Support accessing drug and alcohol treatment
Naloxone and overdose prevention and advice
Open 12.30-4.30 pm Monday to Friday. Closed Saturday and Sunday
Pharmacy Needle Exchange
Information about locations and opening times of pharmacy needle exchanges can be found here:
Sites contact and opening hours
Homelessness and Rough Sleeping
Framework Street Outreach Team
If you need help or you see someone sleeping rough call Framework Street Outreach Team on:
0800 066 5356. 24 hours a day, every day
 Other services
POW!
POW Nottingham is a peer-founded charity supporting individuals involved in or affected by sex work. POW promotes health and dignity by empowering, supporting and educating our clients. POW offers rapid access to our clients and provide a drug treatment clinic on a Thursday afternoon between 2.00pm – 5.00pm, providing treatment, support plans and needle exchange. Clients are able to self-refer to the clinic.
Self Help
Alcoholics Anonymous: 0115 941 7100
Narcotics Anonymous: 0300 999 1212 (10am – midnight)
SMART Recovery: www.smartrecovery.org.uk or contact Nottingham recovery Network for local meeting details
Samaritans: 116 123
www.samaritans.org
Talk to Frank: 0300 123 6600
Download the 'Recovery Portal' app from the app store or Android store for more information on drug and alcohol services local to you.
Addiction, Mental Health, Housing and Financial Guide for Veterans
This external site is set up and maintained by Lily Jones, and contains a wealth of useful information and links for veterans and their families
https://businesscostsaver.co.uk/guide-for-veterans/
---
Services in Nottinghamshire
For help in Notts (outside of the City)
New Directions Nottinghamshire CGL
This service is open to anyone over the age of 18 living in Nottinghamshire. If you are experiencing issues around drug and/or alcohol use, please contact
0115 896 0798 for more information or to make an appointment.
http://www.changegrowlive.org/content/new-directions-newark
---
Domestic & sexual violence
If you need help, contact the local freephone helpline on 0808 800 0340
Nottinghamshire Women's Aid Ltd endeavours to empower women and their dependants by sustaining a high level of support within their services to provide a safe environment with ongoing support, advice, counselling and learning opportunities together with emergency refuge accommodation, an outreach service for women, young people and children, a supported housing scheme and a Women's Centre in order to enable women to effect change in their lives"
Juno Women's Aid (formerly WAIS)
A free, confidential and independent charity working with women, children and teens who have been affected by domestic abuse. They have almost 40 years experience and they are passionate about helping women and their children to stay as safe as possible and to recover from the harm of domestic abuse.
Equation (formerly Nottinghamshire Domestic Violence Forum) is an independent, award-winning charity that brings together a range of voluntary and statutory organisations and individuals to work on tackling issues related to domestic violence throughout Nottingham and Nottinghamshire.
Notts Sexual violence Support Services (formerly Rape Crisis)
Notts SVS Services offers counselling and support to women and men who have suffered rape, childhood sexual abuse or sexual harassment.
In an emergency situation, or when life is in danger, call 999.